105.6% increase in online revenue for a national premium bed retailer


105.6% increase in online revenue for a national premium bed retailer


Opera® has long been recognised as the trusted experts for premium adjustable beds and mattresses across care, hospitality, and consumer sectors. Established in 2004, the family-run business has hundreds of years of combined experience in the furniture, care and manufacturing industries.
+57.7%
Increase in eCommerce sales vs. Same period previous year
+47.9%
Increase in sale value
vs. Same period previous year
Our Challenge
Opera® has extensive experience working within the care sector but wanted to bring the sleep and health benefits of adjustable beds to a wider audience by branching out into the retail and consumer space with a new range of smart beds for lifestyle. The branding, tone of voice and website design were geared towards a care-specific audience, and we needed to update their brand and identity to reflect their new offering without alienating their core care sector customers.
Mattix has delivered a comprehensive identity that caters for all of Opera's audiences across print, digital and web and has resulted in an increase of over 100% in online revenue year-on-year. The brand refresh we provided has allowed Opera® to move closer to their goal of becoming a household name.
We continue to support Opera® on their journey of impressive growth, producing all creative work alongside their marketing and sales teams, including app design, premium brochures, exhibition stands, advertisements, digital graphics, animations, website user experience optimisation (UX) and conversion rate optimisation (CRO).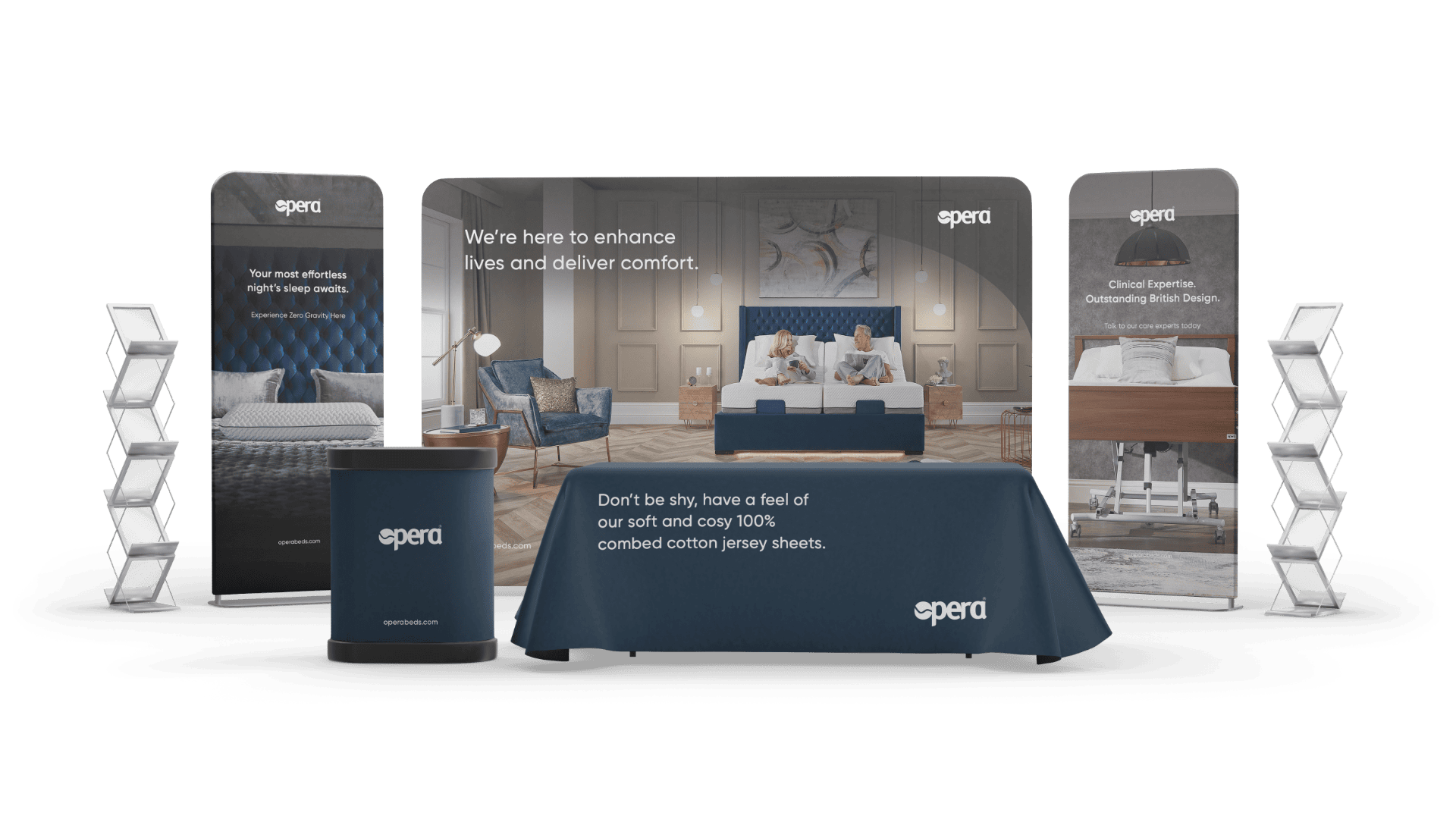 Speaking to a new audience
Before working with Mattix, Opera's core customers were care homes and organisations, as well as customers who required care beds and furniture for their own homes. The branding, website and content now cater to both a B2B and B2C audience, providing comfort and lifestyle products to people of all ages and abilities, alongside their established range of hospital and care beds.
"By nature, everyone in the Mattix team is very creative. They take an idea or concept and bring it to life very quickly. The foundation that Mattix has given us with transforming our branding and tone of voice has allowed us to bring our vision for the Opera® brand to reality."
"Our working relationship is very personal; our teams work directly with their team, and that has helped keep all of our projects moving and on track. We're extremely happy with the work Mattix has provided and the results speak for themselves."
Jed Lant, Business Development Director
Opera® needed a website that was straightforward to use yet retain a premium, stylish feel. Taking inspiration from their ethos, we created an interface that champions high-end British design, combining it with easy-to-use functionality and clear navigation. In just a few clicks, customers can learn, view, customise and buy exactly what they're looking for.
Comparing statistics with the previous website in the same period, we have increased Opera's eCommerce sales by 57.76% and sale value by 47.9%.
In addition, small iterative changes each month to improve UX and Conversion has resulted in a further 22% increase in conversion vs previous quarter.
Ongoing creative support with all sales and marketing
Mattix continues to support Opera®, helping them to refine and further optimise their website and digital presence. We work in collaboration with Opera's internal and external teams to further establish the brand as an authority in the industry and become a national household name.
Would you like to achieve similar results for your business?
Speak to our team and see how we can help enhance your brand and online presence.