Establishing customer trust with brand consistency for a Microsoft Partner


Establishing customer trust with brand consistency for a Microsoft Partner


Microsoft for Education specialists Cloud Design Box support over 400 schools internationally, building and designing intranet solutions in Microsoft Teams and SharePoint.
As a Microsoft Partner, Cloud Design Box also provides training and strategic advice, helping schools, academies and trusts enhance teaching and learning with the latest technologies.
Our Challenge
Before working with Mattix, Cloud Design Box lacked a consistent brand identity. The company required a brand refresh that aligned every customer touchpoint, from their website and social media channels to their sales material.
Establishing trust with both the education and corporate sector is key, so we needed to create a strong, trustworthy brand that conveyed professionalism while remaining approachable.
By creating a consistent and scalable brand identity, we've supported Cloud Design Box's rapid growth over the last four years, who are now serving over 400 educational organisations internationally.
The new brand is professional and trustworthy having developed a visual identity that is familiar to the education and corporate sectors while feeling fresh and modern.
Meanwhile, the website boasts a tailored user journey for each type of customer, clearly communicating the benefits of Cloud Design Box's products and services to the individual user.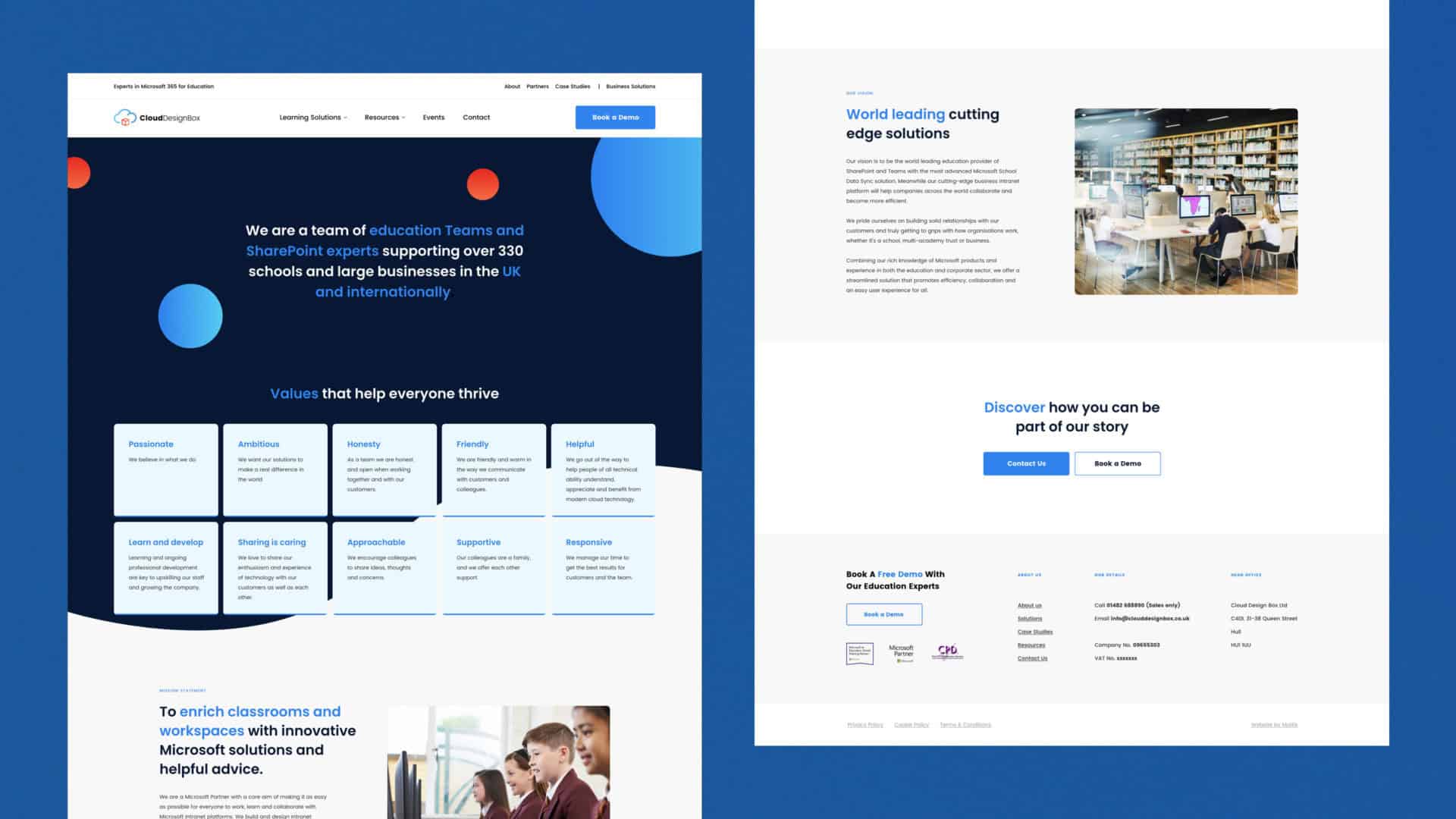 Trustworthy brand identity
Cloud Design Box's brand identity is now consistent across every customer touchpoint, from their website and landing pages to their digital, video and printed assets.

The brand clearly communicates the values of the company, positioning the team as experts in their field with their industry-leading products.
"There are a lot of companies out there that work with technology in schools, so our brand must stand out while remaining trustworthy and professional. Our brand and website now reflect our expertise and experience while making a great impression to every customer who interacts with us.
The team at Mattix are persistent and patient which is something we really value. We're not the easiest people to design for, and we often need things done quickly, but they always deliver on every project."
Tony Phillips, Managing Director
Targeting a diverse range of customers is always tricky, but by understanding the needs of each target audience, we've been able to create a bespoke user journey for every visitor to the website.
The new website guides the user to a specially-targeted page for their type of educational organisation. Every visitor is shown relevant content and case studies and then guided to book a product demonstration or register for regular events.
A clear call to action
The website's main goal is to encourage customers to book a demonstration with one of the team members.
Drawing from Hick's Law to create an easily accessible and straightforward user journey, we made sure that every click brings the customer closer to this goal.
The result of this has been a goal conversion rate of 3.05%, consistent throughout the year and over 300 demos and events booked.
Would you like to learn more?
Speak to our team and see how we can help enhance your business.