Elevating your construction company's online presence can be both refreshing and challenging, especially if you don't know where to begin.

We can tell you from experience that refreshing your brand and having a structured online presence is well worth the investment. We have seen first hand our clients increasing their leads and enquiries, building relationships with new investors and increasing their visibility on Google with the help of Mattix Design.
In this blog we will be exploring;
Embracing a New Technology-Focus Construction Industry
Companies that support the implementation of new technologies will see an increased advantage in the next few decades. With more people turning to the internet to find information and services, construction companies need to establish a strong digital presence to stay competitive.
What are the benefits of having an online presence?
One of the top benefits of having an online presence is brand awareness. A regular online presence serves as a powerful tool, enabling construction companies to connect with a vast audience and potential clients, contractors and partners. Another benefit of having an online presence and a team to support it, is you can track the results of your efforts, this enables you to identify what's working, what's not and how to adjust your strategy accordingly.
Increased visibility
By utilising various platforms such as websites, social media and email marketing, you can reach out to a wider audience, in a competitive market, an effective online presence not only drives lead generation but also enhances credibility, visibility and can increase sales opportunities.
Credibility and Trust
Complex and high-stake projects demand clients and partners to have faith in one another and trust the business can deliver quality results, on time and within budget. Transparency about your company's history, certifications, and past projects enhances credibility. Positive online reviews and a strong reputation further contribute to your credibility, ensuring your business stands out in a competitive market.
Networking
An online presence for construction companies serves as a valuable asset for networking within the industry. It expands your reach, facilitates engagements and provides opportunities to showcase your expertise, ultimately helping you connect with a diverse range of industry professionals and allowing collaboration and growth within the construction sector.
Attracting the New Generation of Decision-Makers
In a recent study conducted by NBS (National Building Specification) asked 2,000, 18-19 years olds in the UK their opinion on the construction sector. 56% said that construction is an 'attractive' career path and 31% said they wanted to build a 'better physical world' through careers in construction. With a younger and tech-savvy generation approaching this industry, one of the areas they want to make sure is relevant and up-to-date is the company's online presence. If your online presence isn't consistent or is in need of refresh, you potentially could be losing out on opportunities as you are not utilising resources that other competitors are.
What strategies can construction industries use to generate leads and enquiries?
You want to boost lead generation, but you don't just want any leads. You want qualified leads, people and businesses who are looking to start the kinds of projects that deliver returns for your business. Some things you want to think about to help generate your leads and enquiries are;
Specified Content
Firstly, you need to identify who your audience is. Are you looking into a specific sector, or targeting an individual in that sector? Using targeted keywords that your potential customers are searching for within your website or blog/case studies can increase your ranking on Google, this allows you the opportunity to appear higher in search results.

Understanding what your target audience needs, interests, and problems they are facing, allows you to showcase your service on how to solve their problems. But, different platforms attract different audiences, and need different types of content. You need to have a structured plan and figure out which channels will best reach your audience and what type of content will work best.
Analysing your Efforts
One of the best ways to boost your construction company is to learn from what you have already posted or created. Analysing what content worked and didn't work will help you when creating future content for your business.
Website optimisation
If your company gets recommended to someone, where's the first place they go? Your website. If your goal is to increase lead generation, showcase what you've done. Write in-depth case studies about the projects you have worked on and include testimonials from the clients and their results. Implementing these strategies you can capture customer data and develop specific sector-based user journeys which can generate leads and enquiries and using the information you have captured, this can then be passed to the sales team to convert these enquiries.
According to Business Post, companies that implement a consistent digital marketing strategy have a 2.8x greater growth expectation and a 3.3x high possibility of expanding their business and, as a result, their staff.
How can construction businesses utilise content marketing to engage with their audience?

Content marketing is a powerful strategy for construction businesses to engage with their audience and demonstrate their expertise.
Here are a few examples of content marketing you can use to increase your online presence;
Educational blog posts
Sharing informative articles which speak about construction trends, best practices and industry insights, can educate your audience and position your business as a knowledgeable resource. Using educational blogs you can showcase your knowledge and expertise in the field, you can also research keywords that are bringing in relevant traffic and use these throughout your blogs to improve your SEO.
Case studies
Sharing your expertise by publishing detailed case studies of your completed projects, including challenges faced and solutions implemented, as well as imagery of the project before and after. Including statistics in your case studies as well as a testimonial from the client will show the reader that you are trustworthy and reliable. Showing your audience the success but also the lessons you've learned will be more relatable and show how you overcome obstacles.
Email Campaigns
Sending out regular email campaigns to your current clients can update them on projects and industry news. This keeps your audience informed and engaged over time. Utilising content you have already created, can be used in your email marketing campaign such as testimonials, case studies or updates within the company.
Webinars and Workshops
Hosting webinars or online workshops where you can dive into construction topics, answer questions and interact directly with your audience. You can also relate back to projects and relevant blogs you have shared which can direct traffic and potential new clients to these resources.
Some of these strategies help position the business as a knowledgeable industry whilst engaging with clients and future prospects. Something which is key to consider is constituency, creating a calendar and sticking to a consistent posting schedule will keep your audience engaged.
What role does SEO play in increasing online visibility?
SEO is a fundamental digital strategy that can boost a construction business's online presence and the likelihood of attracting relevant inquiries and leads. It plays a pivotal role in increasing online visibility for a construction business, and with this increased visibility it ensures that potential clients searching for construction services are more likely to discover and engage with business.
Premier Modular's landing pages are dedicated to their various sectors such as Education, Healthcare, Retail and Residential. This allows them to target information, including relevant case studies and statistics around the sector, and also include a clear call-to-action which will make it easier for the user to know what their next step is. This helps with SEO as when a potential user is searching for these specific areas, having a dedicated landing page with relevant tags will make it appear higher on their search.
How can you support your staff when implementing these strategies?
Understanding where your sales and marketing processes intersect and overlap, where do your sales and marketing teams complement one another. Understanding their strengths and weaknesses as well as defining each team's role and responsibilities will provide a roadmap towards pipeline optimisation. As your company starts generating more leads, it becomes important to separate those in the early stages of their buyers journey from those getting closer to making a decision.
Examples of construction companies increasing their online presence and their results.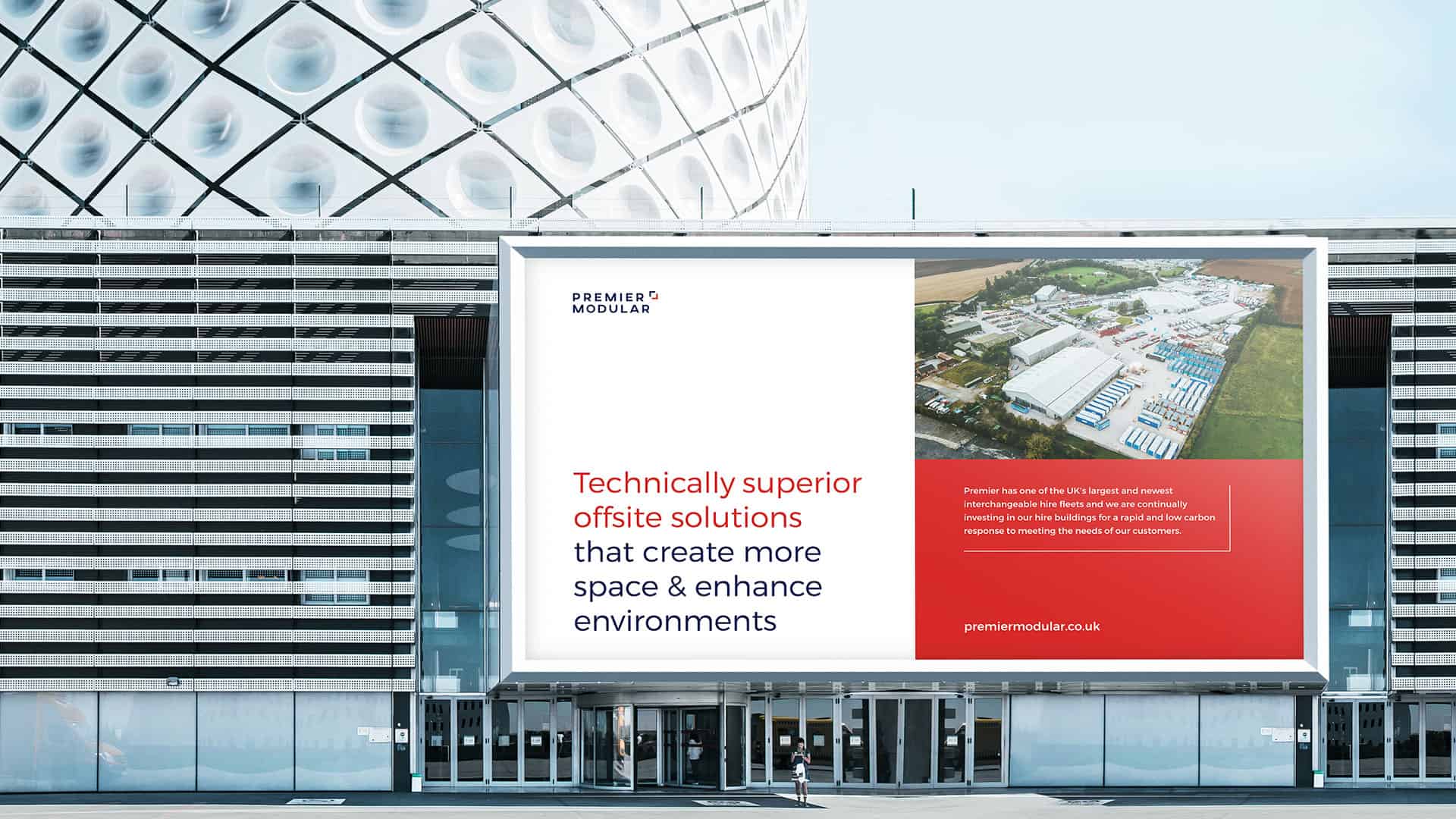 Mattix Design completed a brand design and new website for one of the leading modular building companies, Premier Modular Group.

Premier Modular Group helps companies, communities and environments thrive, enabling a better tomorrow by building projects and structures that attract investment, engagement and innovation. With a turnover of £130m, Premier Modular provides rented and permanent modular buildings to a variety of sectors and has done this for over 65 years.
Premier Modular needed to refresh its visual identity, embrace a modern look and feel whilst retaining their core brand elements that have been established with their customers for over 65 years.. Mattix Design were able to achieve this by creating a brand refresh which involved a new website design and development, updating their photography and improving their SEO. Before Mattix Design were involved with Premier Modular, their website wasn't serving their customers and the company's needs. The site was slow and not mobile-friendly and was not ranking high on Google. Additionally as they were transitioning into a group, this highlighted on their end that the need for the company brand refresh was going to reflect the company's history, growth and vision for the future.
Since their refresh, Mattix Design has increased Premier Modular's website traffic year-on-year by 133%. Mattix Design have also increased Premier Modular month-to-month enquiry goals to 200+ since the refresh. With the continued support from Mattix Design, Premier Modular has also attracted a new investor, MML Capital Partners, who are an international mid-market private equity firm investing in partnerships with management teams to deliver their bold expansion plans. This move puts Premier Modular in prime position to accelerate its growth even faster and to reinforce its best-in-class service provision.
Below is a quote from Shabana Syed-Elvidge, Head of Marketing at Premier Modular;
"Working with Mattix has been a positive experience and really refreshing compared to other agencies. The team is always accommodating and happy to go the extra mile. Our new websites have become vital tools for the sales team, and everyone internally has been very complimentary of the new brand, agreeing that while being sensitive to our heritage, it reflects the growth of the company and its transition to a group."
Increasing brand visibility
Using an enhanced SEO strategy and optimising their website functionality, Mattix Design have boosted the company's Google ranking to page one for over 30 of their targeted keywords. Previously the website ranked on pages two and three of Google for most of their customers' search terms.
Sales and marketing teams supporting each other
Sales and marketing teams need to work together when identifying and converting leads. Using information that the sales team discovers such as, learning what challenges sectors are facing, the marketing team can use this information to create more tailored strategies that target these issues and show how your company can solve them. Sales and marketing teams can create a seamless user journey for the customer, from an initial enquiry to finalising a sale.
Designed to Deliver.
Looking for a new creative partner?